Today I'm going to be covering how to create a rabbit pedigree. It can be intimidating, but it doesn't have to be. Let's first start off with some basics: what is a pedigree, what's in a pedigree, and why you should pedigree. Then I will move on to how to create a pedigree and record keeping.
What Is A Pedigree?
A pedigree is a listing of the genealogy of the rabbit. It shows which rabbits the rabbit came from. Each pedigree is created by the breeder of the litter and pedigrees are given with the kits when they are sold, or simply kept for a number of years as records. At Kaninchen Farm, each and every rabbit is given a pedigree. This helps us to keep track of who's who, and to know which pairings are working well and which aren't. Even rabbits that do not get sold or used for breeding are given a pedigree.
What Is In A Pedigree?
A pedigree contains 5 very important things, and may contain 2 optional things. The 5 must haves on a pedigree are:
Name
Ear Number
Sex
Variety/Color
Weight
The optionals are:
Genotype
*Date of Birth
*Legs
*Grand Champion #
*Registration #
You absolutely must have the name and ear number (if tattoed) of all rabbits on the pedigree. There must be some way of identifying those past rabbits. If there is no ear #, you can leave that section blank, but most rabbits now have ear numbers. Names are made up of a breeder prefix and the name the breeder or owner assigned. For example, Kaninchen's S39 is the name of one of our rabbits. Kaninchen's is the breeder prefix, and S39 is the rabbit's name. If I sold S39 to Ms. Jane, and Ms. Jane decided to call her Daisy, she'd write on the pedigree, "Kaninchen's S39 aka Daisy". You can add an aka to your pedigree's name field. It is helpful to let the original breeder know that you've renamed the rabbit, but it is not necessary since the Ear # will be the same.
If you purchased a rabbit that doesn't have a breeder name listed, you should ask the breeder what they'd like used. In some cases they will just have their last name used because they don't have a rabbitry name (for example, Draggo's Mama). Regardless you should not put your farm name if the rabbit came from somewhere else. The breeder prefix is a way to give credit to the breeder who worked hard to choose their rabbits, decide which breedings to do, and then decided which rabbits were good enough to sell. Do not take credit for another breeder's work and don't diminish their work by giving credit to someone else. You should never chop off the farm name/breeder prefix from a rabbit's name on a pedigree either. It is very important. There can be 22 different rabbits named Fire. That breeder prefix is the only way to know which Fire is the right Fire. 


If you are borrowing a buck, you can ask the owner what prefix they'd like used. It should be either yours or theirs. For us, it's the doe's breeder prefix that gets used. If we use our doe, then the kits are named Kaninchen's (name). If we provide the buck to Ms. Jane at Sweetwater's to use, then they'll be called Sweetwater's (name).
The Ear # is the number tattooed in the rabbit's left ear and is only to contain numerals 0-9 and letters A-Z. No special characters, shapes, or smiley faces are allowed. If the rabbit is to be shown, ARBA also requires nothing of a profane or sexual nature be tattooed. There are some breeders who want a rabbit to only be used for meat or breeding and will tattoo things like, "meat", "cull", "no show", etc. This does not however prevent the rabbit from being shown. If you truly do not want the rabbit shown, a smiley face, exclamation point, star, etc in the ear is a disqualification and prevents them from being shown. These characters can still be written on a pedigree however, so you can still keep track of your rabbits if they have them in the ear.
All pedigrees must contain the sex and the variety/color of the rabbit. When pedigrees are filled out, there is a certain order to which rabbits go where. The buck always goes on top of the doe. Some pedigrees do not list the sex because they are always to be filled in this way, buck on top, doe on bottom. Look at the example below. The rabbit, KA700 has her father on top, and her mother on the bottom. Then each of the parent's parents are listed, and so on.
The other must have on the pedigrees is weight. Each rabbit should have a weight given. Here we use pounds and ounces. Some places use pounds only so you would see 9.5 lbs instead of 9 lbs 8 oz. Our scale measures in pounds only, but we do the conversion to ounces for the decimal place. In order to register your rabbits with ARBA, all 15 rabbits in the pedigree MUST have a weight filled in. This can be very difficult. It is advisable to always make sure your pedigree includes all weights when you purchase a rabbit. If it does not, you can still breed, show, and use the rabbit, but you just can't register. Not all rabbits are registered (none of ours are), but they are still good quality rabbits. Registration means that a judge has looked them over, confirmed they meet the breed standard, and that completed paperwork has been filed with ARBA. Registered rabbits are not worth a higher price, so we do not register our breeders. It is a personal choice.
Under optional things to include on a pedigree are genotype, date of birth, legs, grand champion number, and the registration number. Not everyone knows (or cares to know), the genotype of their rabbit. The only program that I know of that fills this in by default is Global Pedigree. This is a nice piece of information to have, especially if you're breeding for certain colors or trying to test breed, but it is not necessary.
The date of birth should be on there for the rabbit if you know it. There is no reason not to have a date of birth for any kits that you are selling. Don't be lazy, write it in. In Global Pedigree, and in Evans, it will record the date of birth for all animals, but only print it for the rabbit named in the pedigree, and for the parents. Handwritten pedigrees have a spot to include this for all of the rabbits.
If your rabbit is shown, or some of the rabbits in the background have been shown, it is nice to include the number of legs the rabbit has won, and the Grand Champion number or Registration number if the rabbit has been Granded or Registered. Not all rabbits have been, so this information is not required in a pedigree. When a rabbit has been Granded or Registered, it will receive a tattoo in the right ear to identify it and signify its achievement.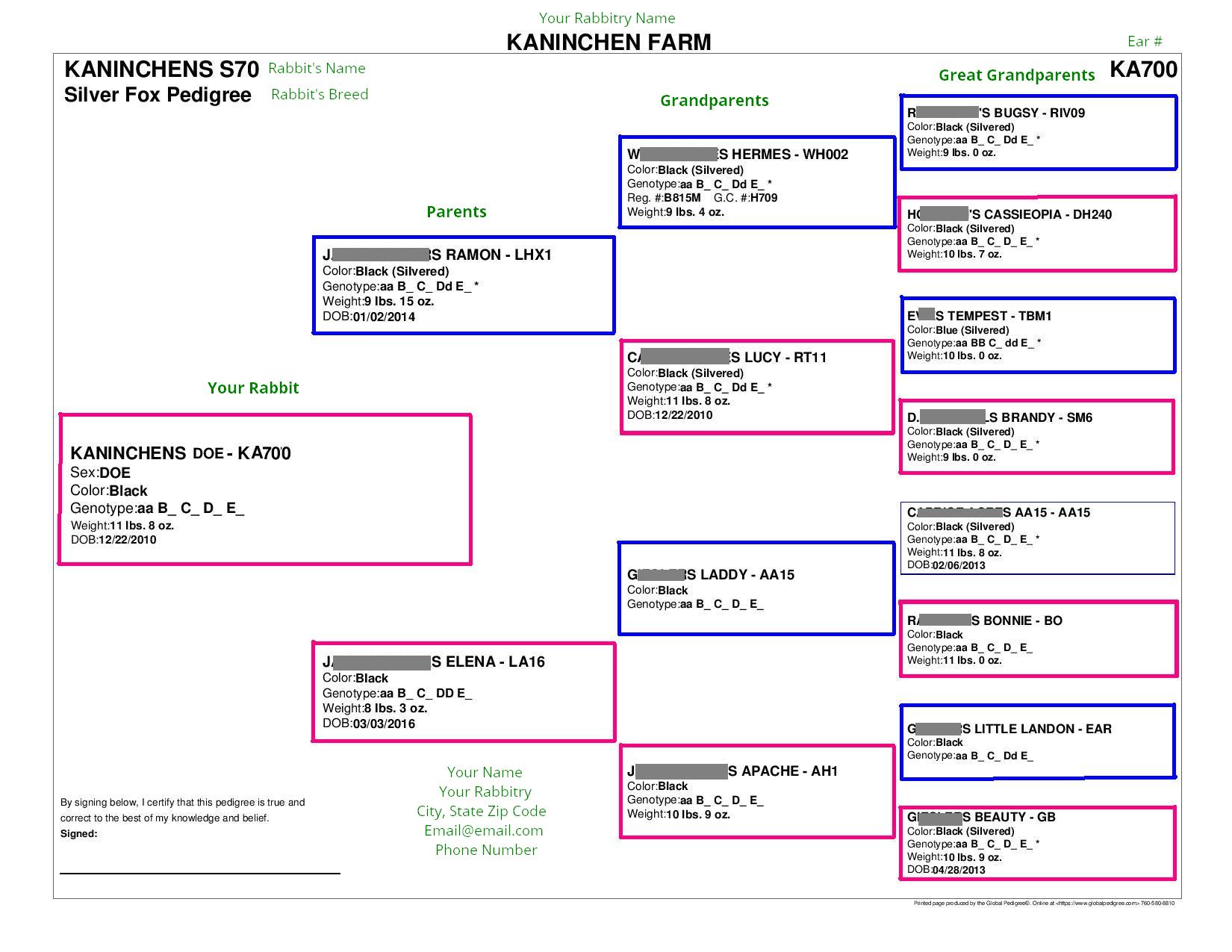 Why You Should Pedigree
Do you want to fetch a higher price for your rabbits?
Do you want to show your rabbits?
Do you want to help preserve your breed?
Do you want to help children in 4H, FFA, etc?
Do you or your children want to enter the fair?
Do you want to know which rabbits make the best kits together?
Do you want to know who makes the largest litters?
Do you want to know who's kits grow the fastest?
Do you want to know which rabbits that one came from?
Do you want to try to get blue, chocolate, lilac, etc?
Do you want to try and avoid certain colors?
Do you want to know who is responsible for that funky (whatever it is)?
Do you want to know why these kits keep dying (genetic issues)?
You can figure out all of that and more from a good pedigree.
How To Create A Pedigree
So you've decided to pedigree, great! Creating a pedigree is simple. Start in the first box on the left. That is the rabbit you've got in front of you (or in your cage). Write down everything you know about that rabbit (name, ear #, sex, color, genotype, weight, etc). Then move up and over to the right a box. Write down everything you know about your rabbit's sire. Just continue on down the lines until you're finished. Depending on the pedigree template you use, it may have spots for different things, just fill them in to the best of your ability.
You can buy the ARBA pedigree book and fill in pedigrees by hand. You can also print off blank pedigrees from the internet (just google, "Blank Rabbit Pedigree";). You can create your own pedigree template in Word or some other program as well. With all of the above, just make sure that you make two copies, one for your records, and one for the buyer. If that seems like too much work, you can use a computer program just for pedigrees.
Record Keeping
I personally use a program called Global Pedigree (www.globalpedigree.com) to keep track of all of my pedigrees. It stores them all and will link up with thousands of other pedigrees. This is especially helpful so that I don't have to enter the information for all 15 rabbits by hand when someone else has already done it for me. It also permanently stores a copy and can be accessed at any time from anywhere with Internet access. If I were to have a house or barn fire, my records would still be safe and retrievable even if my computer was destroyed. I also like that the pedigrees are automatically generated. I enter my breeding information and it pops out a pedigree in seconds. It also tells me when I click on a buck how many litters he's sired, his average litter size, and known progeny. When I click on a doe, it tells me her total number of litters, average kit survival (%), and known progeny. I can tell at a glance, who's doing well and who's not, without digging out the pedigrees and counting all the kits. Some other record keeping programs include Evans, and Kintracks. I don't personally use these programs, so I can't write much about them.
There's no real recommendation on how long you should keep your records, but you should be thinking in terms of years. If my buck is 3 years old, there's no reason to get rid of his paperwork after 2 years, especially if he's alive. You may even have people coming back to you years later asking if you happen to have a weight on a certain rabbit. For instance, I have a great grandparent in my records that doesn't have a weight on him, so I emailed the original breeder. It's helpful to be able to provide that information. It is also helpful if funky things crop up in lines later on as well to have a record of what happened and what you found in litters. Saving that pedigree information can be useful for years to come.
Categories: Rabbits