Have you ever tattooed a rabbit? How about had an injured rabbit? Whether your rabbit has a scratch you'd like to help clear up faster, or you'd like to ease any tattoo discomfort, bunny balm is a great thing to have on hand.
My recipe uses coconut oil as a base. Coconut oil is antibacterial and is great for helping animals (and humans) heal. You can find it at any grocery store or online. I also use lavender herbs, and plantain. Lavender can help calm a rabbit, and plantain relieves pain. Both are antibacterial. Lavender can be found online or in the bulk herb section of most health food stores. Plantain can be found in your own yard, or growing pretty much anywhere since most people consider it a "weed". Either narrow leaf, or broad leaf plaintain can be used.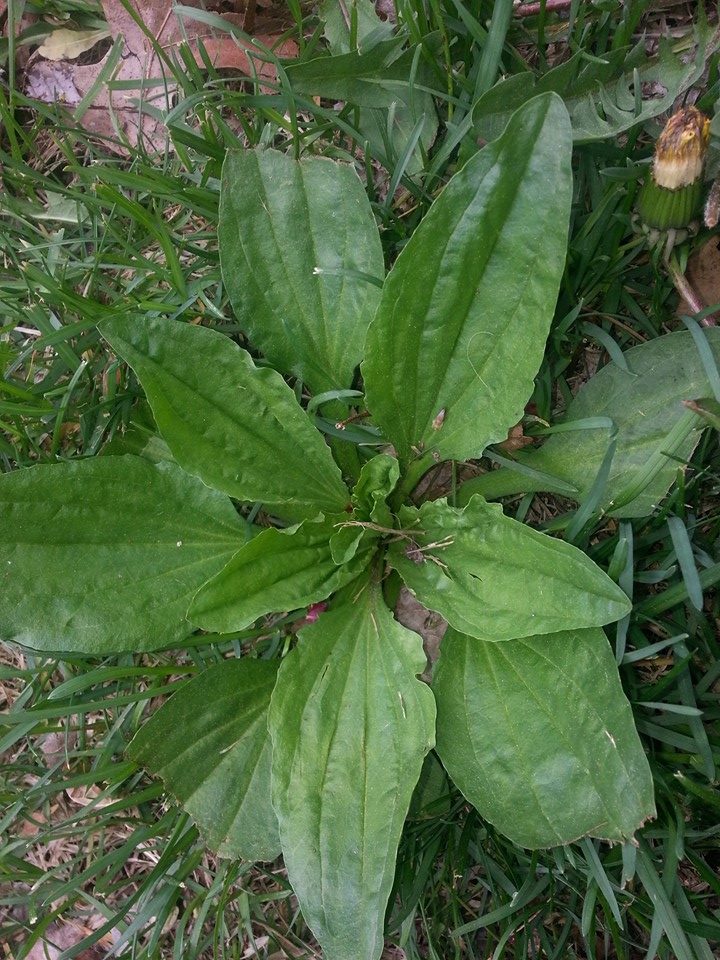 Above: Broad leaf plantain. This one's been mowed a few times, so some of the leaves are a bit jagged, and the stick like flower has been cut off.
This recipe is very flexible. If you can't find the lavender flowers, you can leave them out. If there's something else you'd like to add in, then you can do that too.
Recipe:
~1 cup coconut oil
~1/2 c Lavender flowers
~1/2 c Plantain
4-oz jelly jars
Slow Cooker
Process:
Prepare your crock pot. Put a folded hand towel or washcloth in the bottom to keep the jars off the crock and to help with even heating. Fill with about 2-3" of water, and turn on warm.
Fill jars 1/4 of the way with plantain, and 1/4 of the way with lavender. 
Melt your coconut oil either in a double broiler, in the oven, or in the sun. It melts at around 75 degrees. You want to avoid microwaving, or do it very carefully because over heating destroys some of the healing properties. 
Pour oil over your herbs, leaving about 1/2" head space. Put the lids on and screw the rings down. Place them in your crock pot for 1-8 hours. The longer you leave it in, the stronger it gets, but don't over cook your herbs. You want the temperature between 100 and 120 degrees.
Once time is up, remove jars, and allow oil to cool. When cool enough to work with, strain through a double layer of cheesecloth (or even a clean pantyhose), and place in 4 oz jars.

Store in a cool (room temp is fine, just not 85+), dark place. Should keep for at least a year depending on storage conditions. 
This makes a small batch, enough for 2 4-oz jelly jars. Since it's good for humans too (even on burns and mosquito bites), why not make a double batch? Or add some different herbs to make herb infused cooking oil. Basil + Oregano olive oil? Rosemary + Thyme oil?